Indoor Air Quality Testing
Indoor Air Quality (IAQ) refers to the air quality within and around buildings and structures, especially as it relates to the health and comfort of the occupants. Understanding and controlling common pollutants indoors can help reduce your risk of indoor health concerns.
Indoor air pollutants can cause a variety of health concerns or symptoms including eye and skin irritation, coughing, headaches, sneezing, dizziness, respiratory issues, and fatigue to name a few. Soon after exposure to some indoor air pollutants, symptoms of some diseases such as asthma may show up, be aggravated or worsened. The likelihood of immediate reactions to indoor air pollutants depends on several factors including age and pre-existing medical conditions. In some cases, whether a person reacts to a pollutant depends on individual sensitivity, which varies tremendously from person to person. Some people can become sensitized to biological or chemical pollutants after repeated or high level exposures.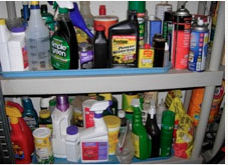 Products and materials in our homes constantly emit chemicals called VOC's (volatile organic compounds) into the air. Indoor air pollutants can average 2 to 5 times higher than the outside air. Causes of poor indoor air quality can occur from many sources, and the following are just a few: household cleaning products, paint, personal care products, mold growth due to water damage, problems with HVAC systems, pesticides, smoke residue and building materials that release toxic chemicals into the air.   Photo – storage of common cleaning products
Testing for dangerous VOC's can be performed within a matters of hours.  When Indoor Air Quality Testing is performed by 5 Star Environmental Services, the surveyor does a through investigation of any potential source of contamination at the subject property.  The total fee for this service is determined by the total number of laboratory samples that are needed (3 laboratory samples are included in the initial fee). Laboratory samples are sent to a certified laboratory by overnight courier, results are usually received within 24 – 120 hours.  The entire laboratory report is forwarded to you along with the surveyor's ENVIRONMENTAL REPORT, which includes the surveyor's recommendations for making your living environment a healthier place to live in.
Note – for more information on Indoor Air Quality and Voc's visit-   epa.gov/iaq/voc.html
To schedule a Indoor Qir Quality Test or to have any questions answered just call – 404-316-4876